2016-02-04
'Endless Corridor' film about Khojaly genocide wins international award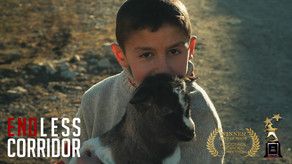 Endless Corridor documentary, directed by independent Lithuanian Aleksandras Brokas has won Humanitarian Award of Global Film Awards of the US Accolade Film Competition prestigious film competition.
Report was told at European Azerbaijan Society (TEAS), the prize has been awarded for 'Exceptional Achievement' nomination.
The Global Film Awards is a family of four unique film award competitions (Accolade Global Film Competition, Best Shorts Competition, IndieFEST Film Awards and IMPACT DOCS Awards) honoring outstanding achievements in film, television, video and new media for over 11 years. Attracting both powerhouse companies and budding filmmakers, these are exceptional, truly international awards competitions, not traditional film festivals, which allows filmmakers from around the world to enter their films in these prestigious competitions. The competitions share administrative staff but the judging is finalized by separate teams of industry award-winning professionals and is independent for each competition.
The Global Film Awards is highly committed to promoting films which have an impact on transforming our world. Each of film competitions bestows an annual Humanitarian Award to a talented filmmaker for an outstanding project that address issues of Social Justice, Animal Welfare, Political, Environmental, Wellness, or Conscious Awareness. Additionally, beginning in December 2014, the Global Film Awards will bestow an Humanitarian Award – pulling together finalists from all three competitions.
Endless Corridor has been submitted for more than 60 film festivals throughout the world. Most have already included it in their official programmes.
Endless Corridor follows two journalists, Lithuanian Richard Lapaitis and Russian Victoria Ivleva on their return to Azerbaijan 20 years after covering the horrific Khojaly massacre during the Nagorno-Karabakh war. They journey to find the survivors they had first met in the aftermath of the Armenian attack. The accounts of both victims and perpetrators tell a dramatic story of the humanity and inhumanity of events in western Azerbaijan on 26 February 1992.
Narrated by Oscar-winning British actor Jeremy Irons and executive produced by Emmy-winning American producer Gerald Rafshoon.
The film was presented in Istanbul, Ankara, Rome, Vilnius, London, Paris, Dublin, Berlin, Bern and Luxembourg in February as part of theJustice for Khojaly campaign organised by Leyla Aliyeva, Vice-President of the Heydar Aliyev Foundation.
With further festivals to come, Endless Corridor is also attracting international attention from leading TV channels.